Q460 alloy steel plate with heavy thickness
Product Detail
Product Tags
Description:
Q460 is a low-alloy high-strength steel. Q represents the strength of steel, 460 represents 460 MPa, mega is the 6th power of 10,
and Pa is the pressure unit Pascal. Q460 means that the plastic deformation of steel will only occur when the strength of the steel
reaches 460 MPa, that is, when the external force is released, the steel can only maintain the shape of the force and cannot return
to its original shape. This strength is greater than that of ordinary steel.
On the basis of ensuring low carbon equivalent, Q460 appropriately increases the content of microalloying elements. Good welding
performance requires a low carbon equivalent of steel, and the increase of microalloying elements increases the strength of the steel
while also increasing the carbon equivalent of the steel. Fortunately, the added carbon equivalent is very small, so it will not affect the
weldability of the steel.
Chemical Composition:
Grade

C

Mn

Si

P

S

V

Nb

Ti

AI≥

Cr

Ni

≤

≤

≤

≤

≤

≤

≤

≤

≤

≤

Q460

C

0.2

1.8

0.6

0.03

0.03

0.2

0.11

0.2

0.015

0.3

0.8

D

0.03

0.025

E

0.025

0.02
Mechanical Properties:
Grade
Delivery
Mechanical Properties
 Yield Strength  (Thickness Min Mpa )
Tensile Strength
elongation min

(

%

)

≤

16mm

16—40mm
40—63mm
63—80mm
80—100mm
100—150mm
Min  Mpa
≥34J
Q460 C
Nornalization
460
440
420
400
400
380
550-720

≥

17%

Q460 D
Nornalization
Q460 E
Nornalization
Production Show: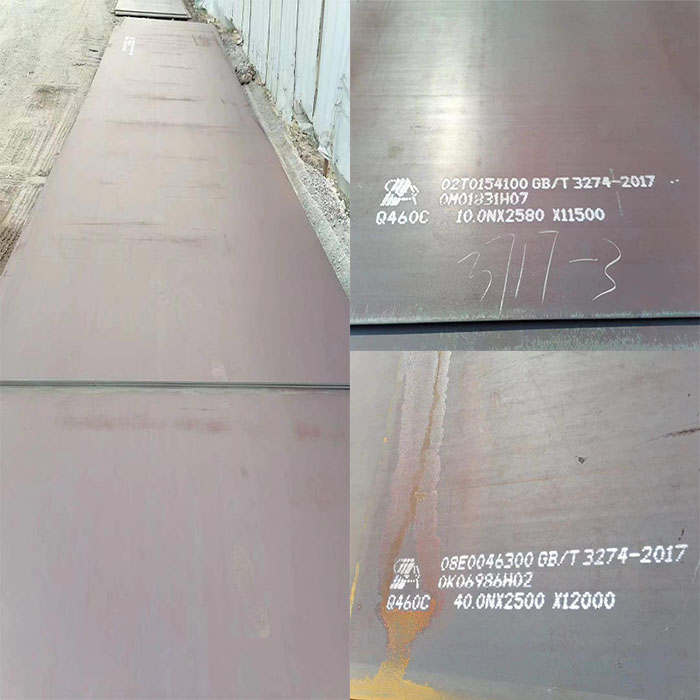 Related Plate: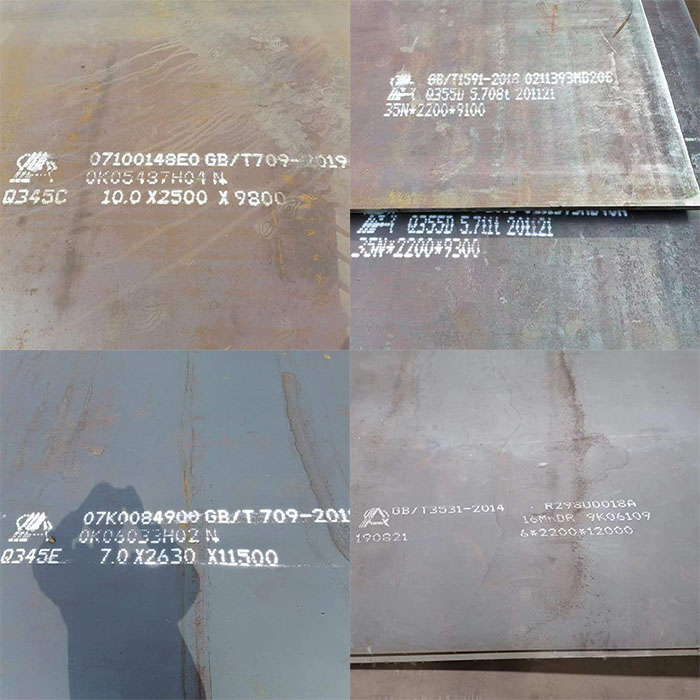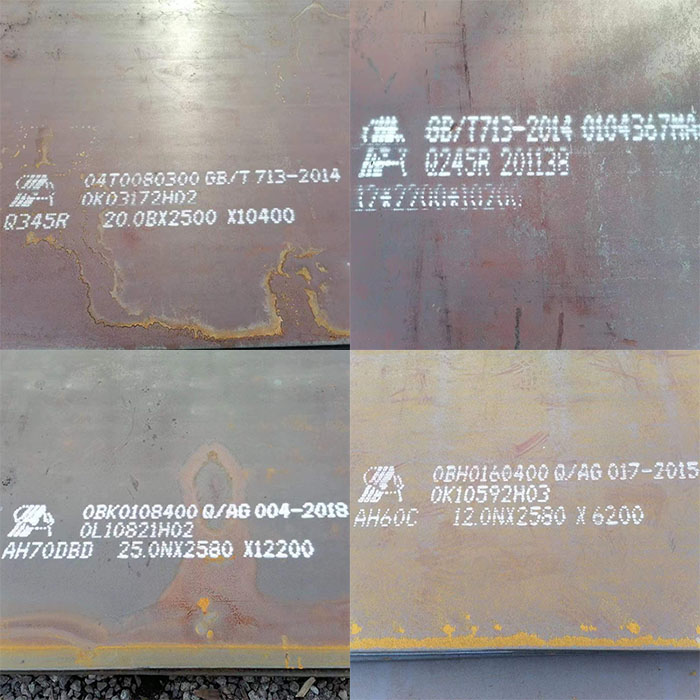 Related plate we can offer:
Name
Grade
T(mm)
W(mm)
Length(mm)
Maker
Delivery condition
Boiler
Steel Plate
Q245R
4-85
1800-25000
8000-12000
Nangang/Shougang
/Xinyu
Normal
Q245R
8-44
2000/2200/
2500
8000-12000
Xinyu/Nangang
Normallized
Container
Steel Plate
Q345R(R-HIC)
8-40
2000-25000
8000-12000
Wuyang/Xingcheng
Normallized+one flaw detection
+lab report
15CrMoR
6-80
2000-25000
1000/12000
Wuyang/Xiangtan
steel
Normallized+tempering+twice
flaw detection
09MnNiDR
6-60
2000-25000
1000/12000
Wuyang
Normallized+one flaw detection
SA516Gr70
6-80
2000-25000
8000-12000
Wuyang
Normallized+one flaw detection
SA387Cr11C12
6-90
2000/22000
8000-12000
Wuyang/Xinyu
Normallized+tempering+A578B
---
---